Skip to Content
Surrey Locksmiths
Fast reliable, locksmith services in Surrey, BC. Our locksmith shop is located in the heart of Surrey, Newton.
Surrey, unfortunately, has developed the reputation of Crime Central, but our mobile locksmiths can help you protect your residential, commercial or industrial property. By improving your physical security, we can reduce the chances of property theft and burglary.
7 Times in a Row as Best Locksmiths.
Surrey's Most Trusted Local Locksmith
Surrey NOW News readers chose Maximum Lock & Security Ltd.
A+ BBB Rating
30 + Years offering locksmith services in Surrey
Fully certified & equipped mobile locksmiths
There is no one more knowledgeable, respected, better equipped or more reliable than Maximum Lock & Security Ltd.
13381 72 Ave.
Surrey, BC V3W 2N5
Monday: 8:30 AM – 5:30 PM
Tuesday: 8:30 AM – 5:30 PM
Wednesday: 8:30 AM – 5:30 PM
Thursday: 8:30 AM – 5:30 PM
Friday: 8:30 AM – 5:30 PM
Call Now, We'll Be Right There!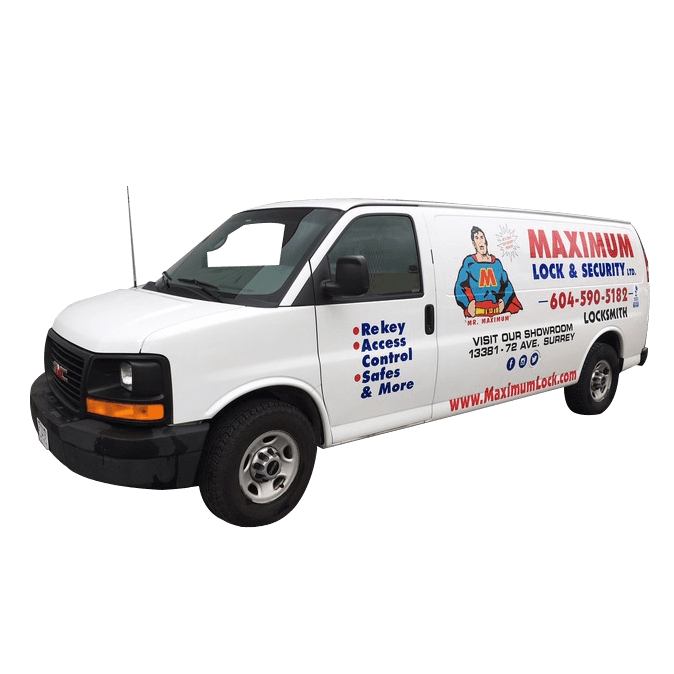 Surrey Mobile Locksmith
Commercial, Industrial & Residential Mobile Locksmith Services
Maximum Lock & Security Ltd. is Surrey's most established and reliable mobile locksmith. Our locksmith store has been anchored in the Surrey, Newton neighborhood for more than thirty years. Our fulltime mobile locksmiths can respond fast and provide expert advice, combined with top-notch workmanship and the required hardware.
Our mobile locksmith service includes a free basic security assessment of your business or home with every mobile service call.
Don't wait until it's too late, call today!
Locksmith Services In Surrey
Change Locks
Cut Keys: Automotive, Transponder, Regular & High Security
Entrance Lock & Deadbolt Installation
Supply and Install High Security, Bump Proof Locks
Rekey Locks & Master Key Systems
Locks for Patio Doors
Locks Opened & Replaced on Mail Boxes
Mail Box Reinforcement
Repair & Reinforce Doors & Door Frames
Astragals & Security Guard Plates Installed
Locked-Out Service: Condos, Homes, Multi-Family Stratas & Apartments
Supply and Install Electric Strikes
Access Control Systems, Both Electronic and Mechanical
High Security Deadbolts: Supplied, Rekeyed, and Installed
Broken Keys Extracted From Locks
Replacement & Reinforcement of Doors & Door Frames
Burglar & Fire Safes: Serviced & Sold, Combinations Changed
Safes Moved, Repaired or Opened
Electronic Locks or Time Locks for Safes Supplied & Installed
Commercial Security Door Grills Installed
Best Selection of Combination Locks, High-Security Padlocks & Key Locks
Thank you very much, we feel much better since your man installed new locks and better doors.
How Can A Professional Locksmith Help?
Safes
Burglar safes, fire safes, gun safes, data safes, fireproof cabinets, we have any kind or size of safe you might need for your home or business. Besides selling new & used safes, we also move, service, install and change combinations on any kind of mechanical or digital safe.
Heavy Duty Security Hardware
Locks, deadbolts, padlocks, guard plates, astragals, puck locks for work vehicles, fire safes & burglary safes for money or jewelry. Door and frame reinforcement, door closers, door pivots, Locking mailboxes, Electric strikes, Access control, Target hardening, Panic hardware. Bolt cutter proof chain and bolt cutter proof padlocks, to protect any residential or commercial property. Visit our Surrey Locksmith Shop, we stock a huge inventory of every kind of security hardware you might need to protect your home or business.
DIY Alarm Equipment
Alarm components and parts for the "do it yourself" type. Alarm control panels, switches, door and window contacts, sirens. Everything to install a professional quality burglar alarm system yourself.