Skip to Content
South Surrey Locksmiths
"South Surrey's Commercial & Residential Mobile Locksmiths"
Voted best Locksmiths in South Surrey, 7 times! You deserve the best Locksmiths, call we're on our way! Fast, friendly, licensed, Mobile Locksmiths can change locks, rekey locks, install security hardware and help secure any home or business in South Surrey. Maximum Lock & Security Ltd. is South Surrey's most established and trusted Mobile Locksmiths. With more than 30 years serving the South Surrey and White Rock areas!
Our Locksmiths are fully certified, licensed, bonded, insured, absolute experts and professional Locksmiths. Our mobile trucks are loaded with every kind of lock, key, door lock guards, mobile key cutting equipment and a wide selection of security hardware, to secure your world.
Best Locksmith in South Surrey – 7 Times!
South Surrey's Local Mobile Locksmith
13381 72 Ave.
Surrey, BC V3W 2N5
Monday: 8:30 AM – 5:30 PM
Tuesday: 8:30 AM – 5:30 PM
Wednesday: 8:30 AM – 5:30 PM
Thursday: 8:30 AM – 5:30 PM
Friday: 8:30 AM – 5:30 PM
Call Now, We'll Be Right There!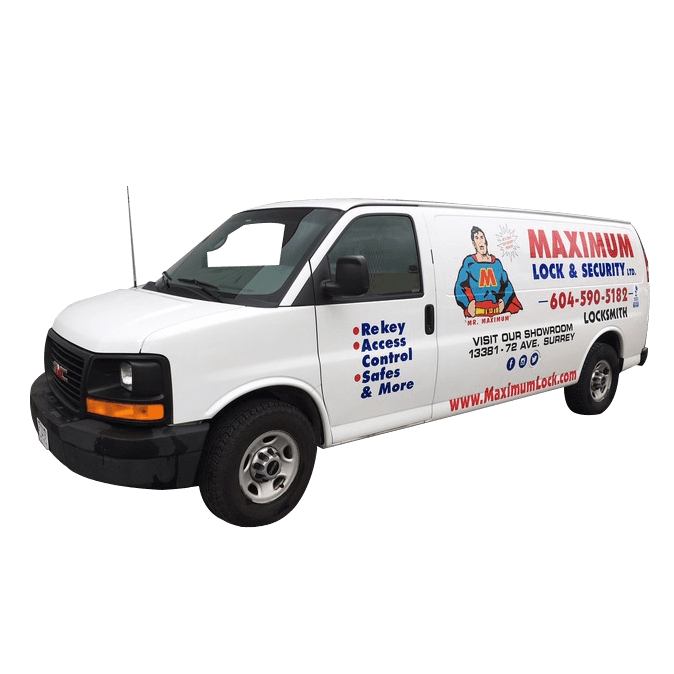 South Surrey Mobile Locksmiths
Commercial, Industrial & Residential Mobile Locksmith Services
South Surrey residents expect and deserve professional Locksmiths. Maximum Locks & Security Ltd. is the epitome of professionalism. Expert Locksmiths; trained to recognize security weaknesses will work with you to secure your home, condo or business. Mobile Locksmith service also includes a free basic security assessment by one of our certified Locksmiths.
Our Mobile Locksmith service includes a free basic security assessment of your business or home with every mobile service call.
Don't wait until it's too late, call today!
Locksmith Services In South Surrey
Change Locks
Cut Keys: Automotive, Transponder, Regular & High Security
Entrance Lock & Deadbolt Installation
Supply and Install High Security, Bump Proof Locks
Rekey Locks & Master Key Systems
Locks for Patio Doors
Locks Opened & Replaced on Mail Boxes
Mail Box Reinforcement
Repair & Reinforce Doors & Door Frames
Astragals & Security Guard Plates Installed
Locked-Out Service: Condos, Homes, Multi-Family Stratas & Apartments
Supply and Install Electric Strikes
Access Control Systems, Both Electronic and Mechanical
High Security Deadbolts: Supplied, Rekeyed and Installed
Broken Keys Extracted From Locks
Replacement & Reinforcement of Doors & Door Frames
Burglar & Fire Safes: Serviced & Sold, Combinations Changed
Safes Moved, Repaired or Opened
Electronic Locks or Time Locks for Safes Supplied & Installed
Commercial Security Door Grills Installed
Best Selection of Combination Locks, High Security Padlocks & Key Locks
Highly recommended, they were fast and professional, we had them change the locks after they looked around they recommended we install a patio door, and window locks, which was a great suggestion. They made further recommendations on other security measures and talked about fire safes vs burglary safes. An educational experience, Thanks