Skip to Content
The Maximum Story
Maximum Lock & Security Ltd. was established in 1984 and has always been a family owned and operated business. The company was started by going door-to-door selling and installing "peepholes". As the need for security increased, deadbolts became an important security need and requirement.
Maximum Lock has been in its current location for over 15 years. The ability to have a showroom has allowed Maximum to showcase new and innovative products. We operate as a full service Locksmith shop. Maximum Lock & Security offers a fully mobile service that attends to both residential and commercial job sites.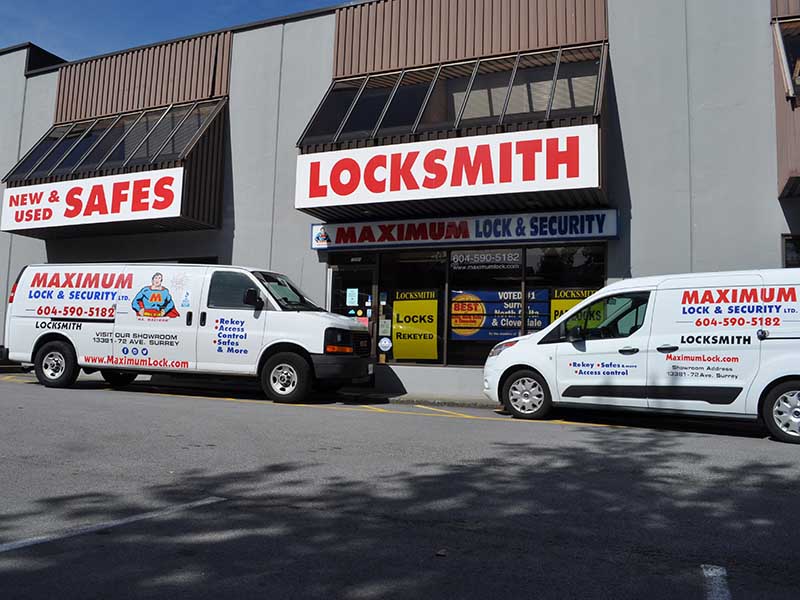 Expansion Means More Variety!
As Maximum Lock has grown and expanded over the years, the need to carry and offer additional products became apparent. We offer a large variety of new and used safes, which are on display in our showroom. Our variety ranges from small jewelry safes to large full size burglary and fire safes.
Maximum Lock & Security Ltd. has won numerous awards for "Best Locksmith" over the years and is also a proud Accredited Member of BBB.
Maximum Lock looks forward to being your 'Key Partner' and serving the growing community for many years to come. We stand by our core values and business principles, which have been based on honesty and integrity since inception.
Maximum Lock & Security Core Values
To offer a fair & honest service and price for all services rendered. To build and sustain long lasting relationships based on honesty, integrity and trust.
Vision & Mission For The Community
To offer all of our customers, commercial or residential, the best service that align with our Core Values, with the understanding that the community that we serve is growing at such a fast rate.
Need A Safe? Call Us To Find You The Right One